F.A.Q.
When should I start planning?
It's important for a relocation expert to examine your location and belongings. This will ensure that we are fully prepared for your move and that your pricing estimate is accurate. We recommend that you obtain your pricing estimates 4-6 weeks prior to your move.
What are moving rates based on?
Moving rates generally depend on the date and the number of moving professionals required to complete your move. Please note that there are other cost factors involved such as packing materials, blanket rental, etc.
Do I need to purchase additional insurance?
Although additional insurance is not required by law, you may want to purchase additional insurance coverage for your valuables. We recommend that you discuss your options with one of our moving consultants.
How many movers will I need?
It's common for three men to complete a small job but larger moves will require additional staff. Express Line Moving will thoroughly evaluate the job size and assign the appropriate amount of movers to keep things smooth and efficient.
Do you provide packing & unpacking services?
Limited as well as full packing & unpacking services are available. Our expert consultants will help you determine your needs and will work with your according to your budget.
How much should I tip?
Although you are not expected to tip and our staff is prohibited from requesting, tips are always welcomed and appreciated. A customary tip of 10%-15% of the total moving cost would be greatly appreciated.
What happens if I wait until the last minute?
Although not recommended, last minute moves are possible. Please call us to check availability.
Is storage available?
Yes, we offer long term and short term storage solutions. Our expert consultants will provide you with the best possible option.
How are international moves priced?
Pricing for international moves depends on the volume and weight of your shipment. To provide you with an accurate estimate, a relocation expert will need to carefully examine and evaluate your shipment.
Expedite Moving
goes the extra mile to keep customers happy
Fair & Upfront
Professional Staff
Fast & Reliable
Insured & Bonded
No Hidden Fees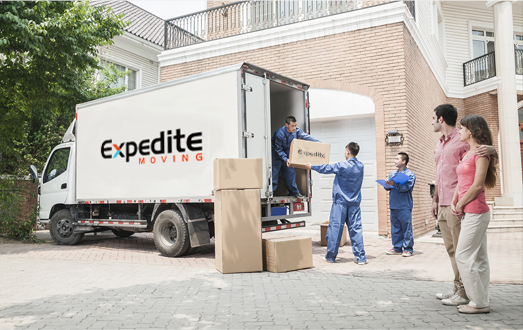 Contact Info
General Inquiries: info@exmoving.com
Support: support@exmoving.com
Toll Free: 1-(888)-877-4425
Business Hours: Monday – Saturday, 9:00am – 6:00pm