Vermont Moving Services
Are you in the process of moving and require a Vermont moving company?  Choose Expedite Moving for all your Vermont moving and storage needs.  We have helped relocate numerous clients' belongings over the years.  You may be extremely busy with figuring out final numbers, closing papers, or rental details.  Packing up your belongings and having to relocate them can add unnecessary stress to your life.  With our help, we can help negate those feelings!  Expedite Moving can give you the peace of mind that your prized possessions are being transported safety and swiftly to your new home.  Learn more by giving us a call now!
---
AT EXPEDITE MOVING, YOU CAN ALWAYS EXPECT HIGH QUALITY SERVICE.
– Move with confidence as we offer the best service available
– For a safe and quick move, we have you covered
– We make sure that there is no miscommunication between us and our clients
– Prices are listed and don't change
– We are professionally licensed, insured & bonded
Expedite Moving
goes the extra mile to keep customers happy
Fair & Upfront
Professional Staff
Fast & Reliable
Insured & Bonded
No Hidden Fees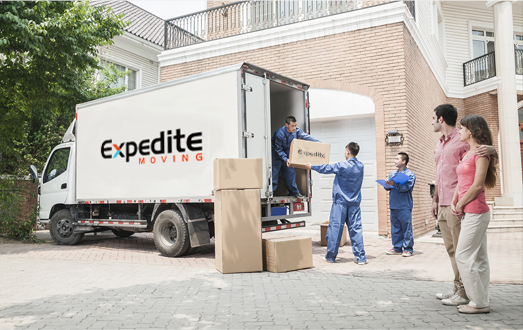 Contact Info
General Inquiries: info@exmoving.com
Support: support@exmoving.com
Toll Free: 1-(888)-877-4425
Business Hours: Monday – Saturday, 9:00am – 6:00pm